Reserve Your Clubs from only €10 per day!
«
Start
Prev
1
2
3
Next
End
»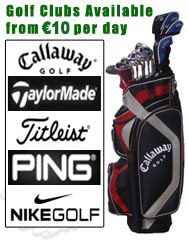 Testimonials
---
"I wanted to let you know that "Clubs 4 hire" have been a pleasure to deal with and I would have no problem using you again or recommending you.
All the best.
Dan Hayden, New York, USA
---
"I cannot recommend any service I've ever used more highly than I do Clubs4Hire. On my recent trip to Ireland this service not only saved me money, but eliminated having to drag clubs through airports. Clubs were quality, exactly as advertised, and delivered on time. Better still, I left a rain suit in the bag, and Richard and staff were kind enough to go to the trouble of sending it back to me in the States. Can't go wrong with Clubs4Hire in Ireland, they're GREAT PEOPLE!"
Brian Sams, Kentucky, USA