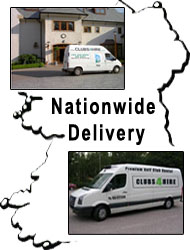 Ireland boasts some of the most spectacular golf clubs and golf courses in the world. Portmarnock Club . . . . Druids-Glen Heath . . . . . . Powerscourt . . . . The K-Club, site of the 2006 ryder cup . . . . and so many more, all making a golf vacation to Ireland a dream come true for the avid golfer in you.
Clubs 4 Hire can provide you with the set of clubs befitting these world-class golf courses. No matter your preference, whether it be Ping, TaylorMade, Titleist, Callaway, Ben Hogan, Cleveland, Clubs 4 Hire can fit your golf game in Ireland perfectly to a tee.
Contact Clubs 4 Hire today to reserve your set!
You can leave your golf bag and clubs at home, and not worry about carrying them all over Ireland during your golf vacation, or worry about your airline losing them on the trip over. Clubs 4 Hire will make sure your set is delivered to and awaiting your arrival at the airport, your hotel, or the golf course you will be playing. How much more convenient could that be for you? After all, you're on your golf vacation, and Clubs 4 Hire wants to make it as easy and enjoyable for you as can be.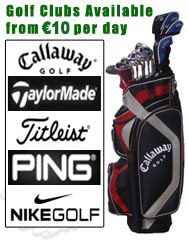 Testimonials
---
"I wanted to let you know that "Clubs 4 hire" have been a pleasure to deal with and I would have no problem using you again or recommending you.
All the best.
Dan Hayden, New York, USA
---
"I cannot recommend any service I've ever used more highly than I do Clubs4Hire. On my recent trip to Ireland this service not only saved me money, but eliminated having to drag clubs through airports. Clubs were quality, exactly as advertised, and delivered on time. Better still, I left a rain suit in the bag, and Richard and staff were kind enough to go to the trouble of sending it back to me in the States. Can't go wrong with Clubs4Hire in Ireland, they're GREAT PEOPLE!"
Brian Sams, Kentucky, USA