Thank you for you purchasing your Clubs4hire Gift Voucher!
You will receive your voucher and code number via email within 24 hours.
If you have any questions at all please feel free to contact us by email at This email address is being protected from spambots. You need JavaScript enabled to view it. or call us on +353-86-8122338.
Thank you,
The Clubs4hire Team.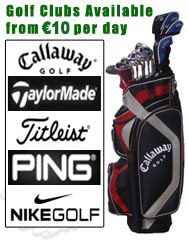 Testimonials
---
"I cannot recommend any service I've ever used more highly than I do Clubs4Hire. On my recent trip to Ireland this service not only saved me money, but eliminated having to drag clubs through airports. Clubs were quality, exactly as advertised, and delivered on time. Better still, I left a rain suit in the bag, and Richard and staff were kind enough to go to the trouble of sending it back to me in the States. Can't go wrong with Clubs4Hire in Ireland, they're GREAT PEOPLE!"
Brian Sams, Kentucky, USA
---
"Clubs4hire Ireland was a great alternative to paying extra airline charges, the sets where at the hotel when we arrived and in exellent condition, I will be recommending this service to my friends, Thank You,
Lars Bergman, Stockholm, Sweden